If you're traveling to Sweden, you probably already know this: it's expensive. Not quite as expensive as London or New York, maybe, but costly enough that eating out will burn quite a hole in your pocket. When I had dinner with a friend at a small restaurant in Stockholm – just two mains and a drink – the bill came to 300SEK (35USD/50SGD)!
Fortunately, Swedes seem to have quite a thing for snacking – which costs a lot less. After my friend explained to me the tradition of Pea Soup Thursday (while lamenting the difficulty of finding ingredients for Nasi Goreng), I researched its other food traditions and promptly fell in love.
Fika: the sacred coffee break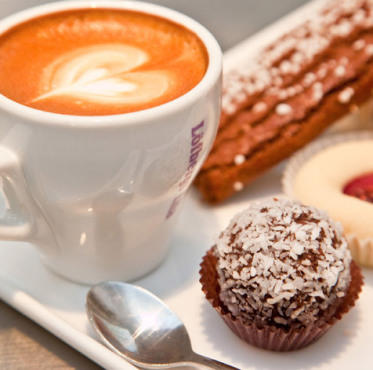 Fika is an untranslatable term, but it refers to the coffee break that is a daily ritual among Swedes. In fact, one can have a 15-minute fika one or two times a day apart from lunch. It sounds like a great way to get to meet new people or catch up with friends.
At fika, most people have coffee together with sweet baked goods. Interestingly, the term comes from the reversal of the Swedish word for coffee: kaffe.
Pancake Day, Waffle Day, and Cinnamon Bun Day
Yes, Sweden has special days on the calendar dedicated to baked goods. No, that doesn't sound crazy at all. Not when we're talking cinnamon buns, pancakes, and waffles!
Pancake Day (Shrove Tuesday) is celebrated in other countries besides Sweden, Swedes celebrate by consuming copious amounts of semla during this period of time up to Easter (which means I'll get to try lots of them when I'm there!) This bun with almond paste and whipped cream is taken so seriously that newspapers conduct taste tests to judge which cafés have the best semla. There's even a blogger obsessively reviewing semlor from bakeries across Stockholm.
Waffle Day (Våffeldagen) falls on 25 March. Unlike Belgian or American waffles, Swedish waffles are flatter with a smaller pattern, and are flower/heart-shaped. This celebration actually stemmed from Vårfrudagen ("Our Lady's Day"), which in vernacular Swedish sounds almost like Våffeldagen (waffle day). Naturally, Waffle Day calls for eating waffles, preferably with whipped cream and lingonberry jam, but then in my opinion one should have waffles any day 😛
Cinnamon Bun Day (Kanelbullens Dag), on 4 October, is my favorite. In fact, cinnamon buns are so popular in Sweden that I can still recall smelling their wonderful aroma along nearly every street in Stockholm, tempting me to step into the bakery out of the winter cold.
Pea soup Thursday
"Wanna fika on Thursday? We can have pea soup and pancakes."
"Oh, is it a special at a diner or something?"
"No…we just have pea soup on Thursdays. It's a tradition."
I couldn't wrap my head around this. Did the entire nation eat pea soup and pancakes every Thursday?!
Crayfish parties
Crayfish is yet another of my favorite treats – in fact, I prefer the texture of crayfish to lobster. As crayfishing season in Sweden is limited to late Summer, crayfish parties are typically outdoors held on warm August nights. I'm not sure if I'd like Swedish-style crayfish compared to salted egg/cereal crayfish, but the idea of an outdoor party reminds me of seafood zi char by the beach!
Surströmming – Sour Herring
Much like durian or smelly beancurd, sour herring (surströmming) is a food with no room for ambivalence – you either love it or hate it. Apparently it is extremely pungent and smells like rotting fish, but has a sharp savory taste.
Luckily, it's not eaten straight from the tin – you're supposed to have it on klämma, a sort of sandwich with butter, potato, and chopped onion. I'm not sure if I'll have the guts to try this! I really can't believe I'm just 12 days away from my flight. The reality of it still hasn't hit me yet, even though I've been getting started on a bit of work, taking down story ideas, and planning part of my itinerary. Also, I've yet to get recommendations for great coffee in Scandinavia – any endorsements, anyone?
Featured image: Eva Holm/Flickr